After facing backlash from it's India users, WhatsApp has postponed its controversial Privacy Policy. And for this situation, users are now started to switch from WhatsApp to Telegram and Signal App. So to tackle users easily on Telegram, the developers have developed a chat import tool by which users can easily import their chats from WhatsApp to Telegram. So in this article, we are going to discuss how to import chats from WhatsApp to Telegram with their chat tool.
WhatsApp Privacy Policy Updates
Telegram has developed this chat import tool and released it in the latest update of version 7.4 on App Store of Apple. And the Android users may wait for a little because as of now it is available for beta users only. So if you are a bets user then you can follow the given steps.
Import chats from WhatsApp to Telegram
Step: 1>> Now open your WhatsApp and open the chat which you want to import to Telegram. Now click on the three dots and choose more option and tap on export. Here if will see a pop up from WhatsApp that is, Want to include media or not. You can simply choose it on your own.
Step: 2>> When you choose one of the options you will see a share window and then select Telegram beta in Android and only Telegram in iOS. Once the beta testing will be over you may get it on Telegram App then you can choose on telegram. Now after choosing beta it will ask you to choose within the recent chat or use the search box to import chats from WhatsApp to Telegram.
Step: 3>> Now in this step the process of importing chats will be started and it can take a little time based upon the size of your WhatsApp chats. And you choose media option then it can be some extra time, so keep the Telegram App open till the imports complete.
Step: 4>> This screen below shows that Telegram has successfully imported the WhatsApp chats with the tag of import and the real chat time. Here it can be easily identified that these chats are imported from another platform.
Import Group Chats fromWhatsApp to Telegram
Now, this is the number of Grop chats where this tool can be really helpful to you. Here this will automatically organise and assign the chats to the member who is in your Telegram group with their chats. And suppose some user is not in your telegram group then it will their phone number instead. So let's see how to import group chats from WhatsApp to telegram.
Step: 1>> Now in this step follow the same as the above step: 1. Go to WhatsApp group and using the three dots more>export and select telegram beta as of now.
Step: 2>> Now in the second step it ask you to import your chats in a existing group or you ca easily create a new group.
Step: 3>> Once the import process of group chats from WhatsApp to telegram is finished, you will see the confirmation. Now you can see all your chats and media except the stickers of WhatsApp.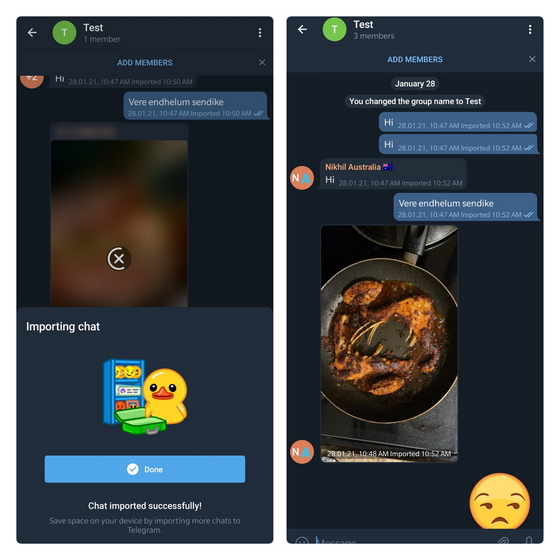 Can I move all messages from WhatsApp to Telegram?
Yes, it is really possible to import all messages and chats from your whatsapp to your telegram using the import tool.
What Kind of message can you move to Telegram?
The telegram's import chat tool supports text messages, audio, video, voice notes, images, GIFs, emojis and location. But it does not support documents and the WhatsApp stickers.
Can I use this tool to import messages from other messaging apps?
Yes, the telegram develper has officially confirmed that you can use it for KaKao Talk and Line also.
What is WhatsApp launch date in India?
November 2009 was the first time when WhatsApp officially launched in India on Apple app store. And in the beginning of January 2010 it started suporting BlackBerry samrtphones. And later on in May 2010 it got support for the Symbian os. In August 2010, WhatsApp started it's release for Android OS.
Move WhatsApp Chats to Telegram
After this issue of privacy from WhatsApp occurred. Telegram and Signal App are working hard to improve their features like WhatsApp. So that Telegram has developed this tool to import chats from WhatsApp to telegram easily.
Read Related